Since everyone is tweeting and posting about what "supposedly' happened after the MTV Movie awards between Rob and kristen, I had no choice but to read the articles by the gossip sites.
GOSSIP being the key word.
Here's the article.
"X17 photographers were the ONLY ones to catch Kristen Stewart and Rob Pattinson after a steamy night together, post-MTV Movie Awards!The Twilight co-stars are DEFINITELY off-screen sweethearts as well, as these exclusive pictures confirm. After the awards show, Rob and Kristen headed to Cecconi's for a bite to eat, and the duo left the trendy eatery around 11pm, and they were followed by a police escort to The Charlie Hotel in West Hollywood (Charlie Chaplin's old house). The lovebirds booked themselves a private chateau, and we didn't see them again until noon, when they emerged from their bungalow, looking like they'd both just rolled out of bed!Our X17 photographer on the scene tells us exclusively:"Rob was preoccupied with getting all of his stuff in the car and Kristen was hiding behind her sunglasses, looking a little tired, but waiting to say goodbye. Right before Rob got in the SUV, the couple stood together behind the car door and I'm pretty sure there was a brief kiss!"Rob was whisked away to LAX in a dark SUV, and Kristen retreated to the bungalow, presumably to catch up on sleep.Rob and Kristen def seem to be teasing their fans with this are-they-or-aren't-they relationship, but X17online can announce to Twilight fanpires - this relationship is for real!"
Okay, now that that's out of the way. I don't know if I should believe it or not. You know what they say. It can only be a rumor for so long before you actually start believing it.
I'm not sure I'm ready to take that leap.
If Rob wants to shack up with Kristen, hey, it's his penis. I should be happy for him, and want him to get what he wants in life. I just don't know if I can see Rob and Kristen's future.
They would probably quit acting after the final Twilight Saga film is released, and of course start their own business venture. I can see it now.
They will open up a Hemporium. All things related will be sold inside. They will move in an apartment overtop of the Hemporium so that Kristen can greet and treat all customers with the best customer service there is. I just hope poor Rob can sleep with the lights from the sign on the building for his store. Look how bright it is.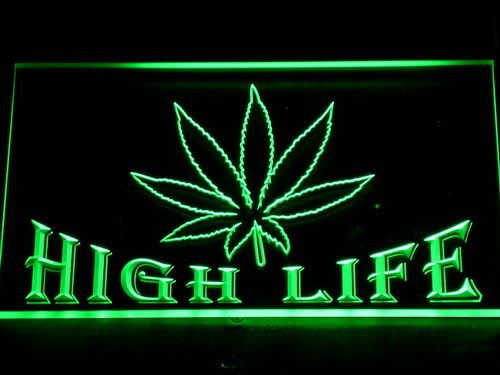 Reguardless, I want him to be happy. I mean, I guess I can see them starting a family and all the cheesy joy that comes with that. I mean, I'm sure Rob's even pictured this in his head for awhile now. The love of his life, her bong, and their daughter! I'm sure he even has a picture stored somewhere on his ancient laptop of them all together. Of course, he made it in paint, so it's not the best. But, he atleast has a little reminder.
Okay, I think I can accept this. I can go on with my life not hating Kristen for landing the best looking creature God has ever created. Mr. Pattinson himself. I can accept that one day there will be little Robstews running around in their Hollywood mansion. I can accept that it will never be me.
So, I can say this now. Rob, go, be happy with Kristen. I'm just a hater. I shouldn't hate you or her. I should hate the game. Fly free, young Rob.
Just one more thing to say............
IT AIN'T HAPPENIN'!!
Rob, hon, you're young, hot, and rich. Go wild, play the field, be a sex animal! Test the water before you dive in, test drive the car before you buy it, and for goodness sake, be the community bicycle and give everyone a ride!! STARTING WITH ME!
Now that I have that out of my system, New Moon Movie . org posted a hilarious video. I'm pretty sure it mimics Jeralyn and I on Sunday night when we first watched the New Moon trailer. Check these chicks out.